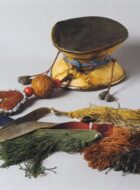 Chöd: Ultimate Compassion Practice
Dr. Lama Alta Brown
April 8–11, 2022
Tuition $0
lll
The English Version of the Surmang Chöd
Chöd is a practice of compassion. As Vajrayogini, meditators offer the visualization of their body to the beings they invite to three feasts. The feasts are the activity of the Buddha Vajrayogini. Through her activity, the energies of the "god-demons" are transmuted. The demons, whether negative emotions, illness, or hostile beings in other realms, are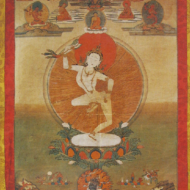 transformed into companions and friends. This is the ultimate practice of generosity. This is the magic of compassion.
This compassionate activity is so effective that it has been used for many centuries to heal mental illness in Tibetan communities. During periods of pandemic it was the Chöd practitioners who ministered to the sick and dying. You can learn more about Chöd practice at EverydayChöd.com.
Chöd is also a Mahamudra practice. It can be practiced from the perspective of mahayana or vajrayana. For this reason, mahayana practitioners and vajrayana practitioners canpractice together in the same practice situation. These two groups will simply have different kinds of experiences. Both are welcome, provided they have taken Bodhisattva Vows or are willing to take them at the retreat. 
PLEASE NOTE: this registration page is for attending on Land at Drala Mountain.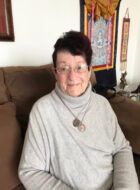 When Trungpa Rinpoche arrived in Boulder CO, Lama Alta immediately connected with him and studied as his student. After Trungpa died she studied, and continues to study, with Khenpo Tsültrim Gyamtso, Khenchen Thrangu Rinpoche and Dzogchen Ponlop Rinpoche. She was introduced to Chöd by Khenpo Tsültrim at the monastery in Pullahari, Nepal. He supervised her practice while she did an individual 3-year Chöd retreat. Eventually, he began to send her students. She has been practicing Chöd since 1996 and has been teaching this practice since 1999.
Dr. Brown completed her doctoral work at the University of Southern California, specializing in Buddhist Ethics. She wrote her dissertation on Mediation as a Bodhisattva's Practice of Peace. She subsequently taught at the University of California at Berkeley through The Graduate Theological Union where she emphasized aspects of Buddhist ethics. She also taught for The Semester in India program through Antioch University and, for five years, taught weekend retreats through The Immaculate Heart college center at The Retreat Center La Casa De Maria. Dr. Lama Alta Brown currently leads an international Chöd sangha. Much of her training in compassionate activity developed out of her experience as the mother of six children.