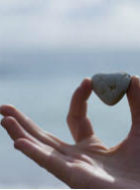 5-Day Mindful Self-Compassion Intensive
Megan Prager, M.A. and David Spound
May 15–20, 2022
Tuition $750 + 5 nights
This 5-day residential program is an intensive form of the internationally recognized, eight-session Mindful Self-Compassion (MSC) training developed by Christopher Germer and Kristin Neff. It is open to laypeople and professionals alike. Participants will learn to: understand the science of self-compassion, practice self-compassion in daily life, motivate themselves with kindness rather than criticism, meet difficult emotions with greater ease, transform challenging relationships, learn tools to manage caregiver fatigue, and teach simple self-compassion practices to others.
This program fulfills the prerequisite for MSC teacher training.
If you are interested in earning Continuing Education Credit for this program, please email Megan a week in advance of the training at
meganprager@gmail.com.
Detailed Information
Mindful Self-Compassion (MSC) is an intensive training retreat version of an empirically-supported 8-week program designed to cultivate the skill of self-compassion. Based on groundbreaking research by Kristin Neff and integrated with the clinical perspective of Christopher Germer, MSC teaches core principles and practices that enable participants to respond to difficult emotions with kindness and understanding.
The three key components of self-compassion are self-kindness, a sense of common humanity, and balanced, mindful awareness. Kindness opens our hearts to suffering, so we can give ourselves what we need. Common humanity opens us to others so that we know we aren't alone. Mindfulness opens us to the present moment, so we can accept our experience with greater ease. Together they comprise a state of warm, connected, presence during difficult moments in our lives.
Self-compassion can be learned by anyone, even those who didn't receive enough affection in childhood or who feel uncomfortable when they are good to themselves. It's a courageous attitude that stands up to harm, including the harm that we inflict on ourselves through self-criticism, self-denial, or self-absorption. Self-compassion provides emotional strength and resilience, allowing us to admit our shortcomings, forgive ourselves, motivate ourselves with kindness, care for others, and be fully human.
Rapidly expanding research clearly demonstrates that self-compassion is related to emotional wellbeing, lower anxiety and depression, maintenance of healthy habits such as diet and exercise, and more satisfying personal relationships.
Objectives
At the completion of this activity, participants should be able to:
-describe the theory and research supporting mindful self-compassion
-motivate themselves with encouragement rather than self-criticism
-relate to difficult emotions with greater moment-to-moment acceptance
-respond to feelings of failure or inadequacy with self-kindness
-begin to transform difficult relationships, old and new, through self-validation
-practice the art of savoring and self-appreciation
-integrate core mindfulness and self-compassion exercises into daily life
-teach simple self-compassion practices to patients, students, or clients
Target Audience
This program is designed for members of the general public, as well as for professionals who wish to integrate self-compassion into their work. Participating in an MSC program satisfies a prerequisite for becoming an MSC program teacher. Meditation experience is not necessary to participate in this 5-day MSC program for professionals. All are welcome!
Accreditation
Psychologists: This program is sponsored by the UC San Diego Center for Mindfulness. The UC San Diego Center for Mindfulness is approved by the American Psychological Association to sponsor continuing education for psychologists. The UC San Diego Center for Mindfulness maintains responsibility for this program and its content. This course offers 24.0 hours of credit.
California licensed MFTs, LPCCs, LEPs, LCSWs: This activity is an approved continuing education program by the American Psychological Association. 24.0 contact hours may be applied to your license renewal through the California Board of Behavioral Sciences. For those licensed outside California, please check with your local licensing board to determine if APA accreditation meets their requirements.
Nurses: UC San Diego Center for Mindfulness is approved by the California Board of Registered Nursing, Provider Number CEP16351, for 28.75 contact hours.
Continuing Education Credit
The cost of CEs for this program is $40.00. If you are interested in earning Continuing Education Credit for this program, please email Megan a week in advance of this training at meganprager@gmail.com.
Training
Program activities include meditation, short talks, experiential exercises, group discussion, and home practices. The goal is to provide a safe and supportive environment for exploring how we typically respond when difficult emotions arise and to provide tools for becoming a warm and supportive companion to ourselves. The emphasis of the program is on enhancing emotional resources and personal capacities. For more information on self-compassion, please see www.Self-Compassion.org and www.MindfulSelfCompassion.org
Participant Guidelines
The MSC program is a journey—an adventure in self-discovery and self-kindness. Compassion has the paradoxical effect of both soothing and comforting as well as opening us to emotional distress that we may have been unconsciously holding inside, often for many years. Therefore, some difficult emotions are likely to surface during the program as we grow in our capacity to embrace and heal them. The teachers are committed to providing an environment of safety, support, privacy, individual responsibility, and a common commitment to developing compassion for oneself and others.
The following reading is recommended:
Self-Compassion: The Proven Power of Being Kind to Yourself by Kristin Neff
The Mindful Path to Self-Compassion by Chris Germer
Tentative Schedule
Sunday: Registration 2 – 5 pm, dinner: 6 – 7pm, first session 7 – 9:30 pm
Monday, Tuesday, & Thursday:  9 am – 12:15 pm, 3 – 6 pm
Wednesday: 9 am -12:15 pm (afternoon free for personal practice)
Friday:  9 – 11:30 am
Altitude Advisory
Shambhala Mountain Center is situated just under 8000ft. Though rare, this is the lower threshold where one may begin to experience altitude sickness. This is more likely for visitors coming directly from sea level. If you are susceptible to altitude sickness or want to be cautious, it is best to spend a night before your arrival in Denver or Fort Collins to acclimatize. Symptoms generally subside within a day at elevation. To read more, click here: elevation sickness.
Megan Prager is Co-Founder of Mindful Labs and Compassion Programs Director at UC San Diego Center for Mindfulness. She is a Certified Mindfulness Based Stress Reduction Instructor (MBSR), a Certified Mindful Self-Compassion Instructor (MSC), a Certified Compassion Cultivation Instructor (CCT), a Compassion for Couples Instructor (CFC), and an Adjunct Faculty member at San Diego State University. Megan is also a Teacher Trainer and Mentor for the UC San Diego Mindfulness Based Professional Training Institute and for the Center for Mindful Self-Compassion. In addition to teaching Mindfulness and Compassion-based programs, Megan specializes in developing and delivering trainings for Fortune 500 companies as well as for educational, healthcare, and academic settings. In all her ventures, Megan's passion and mission are the same: to empower individuals with an understanding of the important role they play in shaping their lives and well being. Megan believes through compassionate awareness individuals are able to utilize one of the best resources they have: themselves.
Contact Megan: meganprager@gmail.com
Website: www.mindfullabs.com
David Spound, M.Ed., is the Director of Valley Mindfulness in Northampton, MA. He is a certified teacher and teacher trainer of Mindful Self-Compassion (MSC) and Mindfulness-Based Stress Reduction (MBSR). He has trained and worked extensively with the UMass Center for Mindfulness, the UC San Diego Center for Mindfulness, and the Center for Mindful Self-Compassion. David trains and mentors new teachers of MSC and MBSR. He also leads silent meditation retreats for MSC and MBSR teachers, online training programs for teachers and graduates of MSC, and a men's self-compassion workshop. He can be reached through www.valleymindfulness.com.